Handmade Titanium Bicycles
Fresh Frames For Life
Services
What can I Do for You?
about me
my name is alex and I live in Cologne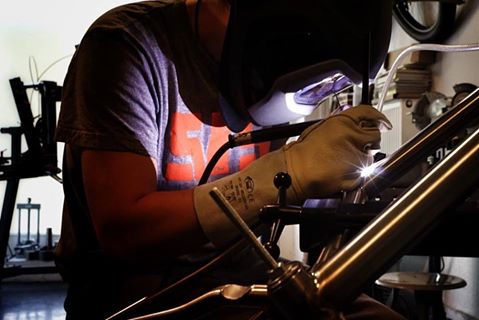 When I was a young kid I spent a lot of time with my grandparents in Nuernberg where my grandfather trained professional racing cyclists. I was fascinated by their speed, their dedication and of course of by the bicycles. But somehow during the next years I lost track of that passion…
After my studies of computer science I worked as an IT consultant and travelled the world for several years. Having enough of being on the road five days a week I started working for the German postal service. But more and more my thoughts drifted apart from IT related topics and instead I got my head around my old passion.
In 2015 my son was born and my wife and I took one year parental leave to spend time with the greatest gift we ever received. During that time I got down to business – I wanted
to learn how to build frames and decided to become self-employed.
My journey:
Lessons in TIG welding
A frame building course at The Bicycle Academy in Frome
Finally I had the first contact with titanium at Daniel Pleikies (WheelDAN) in Berlin where I built my first titanium frame
In cooperation with You I carefully design every aspect of Your new bicycle according to Your needs
Once the design has been finalized a deposit is required
Setting up the jig and mitering the front triangle is the next step
Once the front is finished the rear triangle will be mitered, tagged and welded
The alignment will be checked and small braze-on-parts like the bottle bosses etc. will be attached
Last but no least the finish: Hand brushed or sandblasted – what shall it be?
Fresh Frames For Life!
I design every frame according to your needs
GALLERY
some work samples
CONTACT
DON'T HESITATE TO CALL OR COME BY!
Bachemer Str. 131
50931 Cologne
Germany